GMO Cookies, also known as as "GMO Garlic Cookies" and "Garlic Cookies," is a potent indica-dominant hybrid marijuana strain made by crossing Girl Scout Cookies with Chemdawg. This strain produces a euphoric high with mentally uplifting effects. Consumers say Garlic Cookies promotes an incredible body high that leaves you feeling relaxed and free from pain. In large doses, this strain may lock you to the sofa and make you feel sedated. As a descendent from Girl Scout Cookies, you can expect louds flavors from Garlic Cookies, like a diesel aroma and a garlic-forward taste that lingers on your tastebuds. Medical marijuana patients choose this strain to help relieve symptoms associated with chronic pain, depression, and nausea. According to growers, Garlic Cookies flowers into light green, spade-shaped buds that are dusted with white trichomes and curly orange hairs. This strain was originally bred by Mamiko Seeds. If you've smoked, dabbed, or consumed Garlic Cookies (aka GMO Cookies) before, tell us about your experience by leaving a strain review.
Despite what the name may suggest, GMO Cookies are not the result of a genetically modified organism, but a very popular cross between Chemdawg D and notorious Girl Scout Cookies. Also known simply as GMO, or Garlic Cookies, this indica powerhouse was first created by Mamiko Seeds and was named aptly for its' unique earthy aroma that carries notes of garlic, mushroom and onion which come from it's abundance of Beta-Caryophyllene, Beta Myrcene and Limonene terpenes inherited from its' Chemdawg D lineage. On average, THC levels for GMO and similar variants test around 26.5% with some phenotypes testing as high as 30%! The high of this particular indica are just as unique as its' distinct flavour profile – it provides users with a long-lasting high that'll uplift you to the moon with bursts of euphoria, while relaxing your mind, body and spirit. Reserve this one for days where you wouldn't mind being glued to the couch or when you have time for an enjoyable, long-lasting experience.
GMO Cookies
You can be sure to ward off any vampires with this strain! GMO Cookies, simply sometimes referred to as GMO, is also known as Garlic Cookies due to its distinct garlic aromas. It is an intense and heavy indica hybrid that was created by crossing the famed Chemdawg and Girl Scout Cookies (GSC) strains. It offers a deeply relaxing and sedative high that is widely adored by indica lovers, and is also just as highly revered within the medical cannabis community for its potent effects, all of which are backed by THC levels that can reach upwards of 30%! If you're seeking to melt away into relaxation, or simply looking to scare away the bloodsuckers of the night, this garlicky GMO Cookies is perhaps the right choice for you!
Effects
The GMO Cookies strain is fast acting and long lasting. Almost immediately upon the first toke, users will feel a sense of calmness and ease both mentally and physically, almost like a warming sensation throughout the mind and limbs. You will feel uplifted and euphoric, and the cerebral high will be quite heavy and spacey, so any stress or worries will be quickly forgotten! As the high progresses, a strong sedation will settle upon the rest of your body which would work great for relieving any pain, tension or aches as well. The high is quite long lasting and undeniably enjoyable throughout the whole experience, but because of its long duration and tendency to induce such deep relaxation, it is best suited for evening usages as one may quickly be lulled to an equally peaceful sleep!
THC Content
GMO Cookies is a heavy indica with 90% to a mere 10% sativa. Its THC levels range on average between 20% to 26%, but have been tested to reach as high as a whopping 30%! Breeders at Mamiko Seeds as well as Divine Genetics claim to be the creator of this stellar strain, so while its inception is quite mysterious, it is generally accepted that this strain is the child of the already popular Girl Scout Cookies and Chemdawg, two other heavy hitters in their own right! Girl Scout Cookies, for example, has a ratio of 60% indica to 40% sativa, and weighs in at an impressive 28% THC average with 1% CBD and 1% CBN. Chemdawg is a more balanced hybrid with 55% indica to 45% sativa, and averages a bit lower at 19% THC levels, however is known to pack a powerful punch in terms of a cerebral and physical body high!
Appearance & Aroma
The nugs of GMO Cookies may somewhat be flat, and is super densely packed with a long, pointed shape. Its colours are predominantly a pale olive green with pistils that are wiry and in an orangey brown shade. It is coated with many small amber trichomes that almost give it a furry like appearance. Just like its potency, its aromas are heavy and pungent that may be reminiscent of fuel, though there are also distinct notes of coffee grounds and garlic that can distinguish it from other strains. There is a hint of fruity sweetness upon smoking, though those who prefer savoury flavours will love the stronger blend of garlic, herbs and spices which tend to linger in your mouth even after you're done toking!
Rated 
4.62
 out of 5 based on 
45
customer ratings
(45 reviews)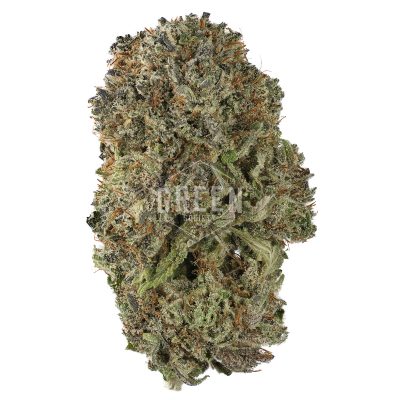 $200.00